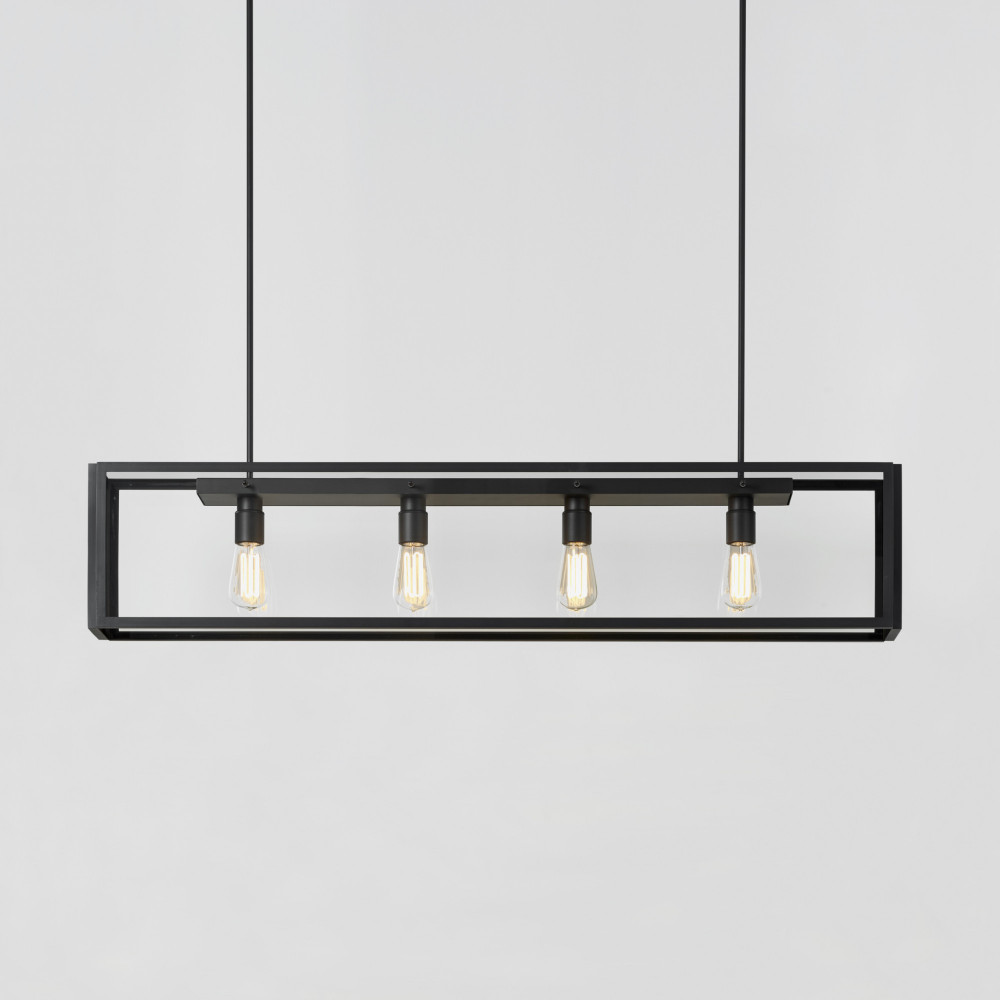 Back to overview
PORTREATH-C
N131
Hanging light with a clear glass structure held in brass frame, sections with dimensions of 15x15mm.
Also available with MESH brass plaiting at the inside of the light fitting.
The hanging light has two suspension arms (diameter 10mm) (right length to be given by order) max. 1200mm with a ladder-shaped ceiling plate.
Dimensions: beam-shaped glass portion: length 1230mm - width 130mm - height 250mm, ceiling plate: length 900mm - width 106mm - height 25mm, total standard height (maximum) 1450mm.
Caret Squirrel Cage lamp 230V E27 4 x 7,7W 2300K 350lm included.
Main power 230V 50Hz.
US on request.
Use: indoor (IP20).
PORTREATH dark bronze clear glass - no caret bulbs - different lampholders - 800.74.119 - N131DBR999999
PORTREATH-C dark bronze clear glass - 800.74.119-C - N131DBR999L81
PORTREATH-C sateen brass clear glass - 800.74.110-C - N131BRM999L81
PORTREATH-C polished brass clear glass - 800.74.111-C - N131BRP999L81
PORTREATH-C polished chrome plated brass clear glass - 800.74.113-C - N131CRP999L81
PORTREATH-C brushed nickel plated brass clear glass - 800.74.114-C - N131NIM999L81
PORTREATH-C polished nickel plated brass clear glass - 800.74.129-C - N131NIP999L81
MESH
PORTREATH MESH-C dark bronze clear glass - 800.74.172-C - N131DBRMD1L81
PORTREATH MESH-C sateen brass clear glass - 800.74.170-C - N131BRMMBML81
PORTREATH MESH-C polished brass clear glass - 800.74.171-C - N131BRPMBPL81
PORTREATH MESH-C polished chrome plated brass clear glass - 800.74.173-C - N131CRPMC1L81
PORTREATH MESH-C brushed nickel plated brass clear glass - 800.74.174-C - N131NIMMN1L81
PORTREATH MESH-C polished nickel plated brass clear glass - 800.74.179-C -N131NIPMN2L81
Finishes
Polished Chrome Plated Brass
Brushed Nickel Plated Brass
Polished Nickel Plated Brass
ACCESSORIES AND SPARES
Caret Squirrel Cage lamp 230V E27 7,7W 2300K 350lm - 360.07.100 - L081
Set of 2 stems L.1200mm dark bronze for a height more than 1450mm - 855.12.022 - NA027
Set of 2 stems L.1200mm sateen brass for a height more than 1450mm - 855.12.020 - NA025
Set of 2 stems L.1200mm polished brass for a height more than 1450mm - 855.12.021 - NA026
Set of 2 stems L.1200mm polished chrome plated brass for a height more than 1450mm - 855.12.023 - NA028
Set of 2 stems L.1200mm dull nickel plated brass for a height more than 1450mm - 855.12.024 - NA029
Set of 2 stems L.1200mm polished nickel plated brass for a height more than 1450mm - 855.12.029 -NA030